---
flexfi is a simple way to get the things you now and pay for them in installments. Choose "flexfi" at checkout
Description
SPECTRA 4-6 person infrared indoor sauna. 
Infrared sauna Quartz + magnesium
for 4-6 persons
With the new Dual Healthy technology offering a choice at each session between Magnesium's relaxing properties or the benefits of Full Spectrum Quartz, Spectra saunas stand out also for their elegant design and spruce wood construction.
The Dual technology used and the quality design make it a best-seller among infrared saunas.
DUAL HEALTHY TECHNOLOGY
The Dual Healthy sauna includes two types of infrared transmitters, Magnesium and Full Spectrum Quartz, which are operated according to the desired results: one promotes sweating and detoxification of the skin, the other muscle and joints relaxation.
Heat in an infrared sauna is not as high as that in a steam sauna; temperature is between 40 and 60°C.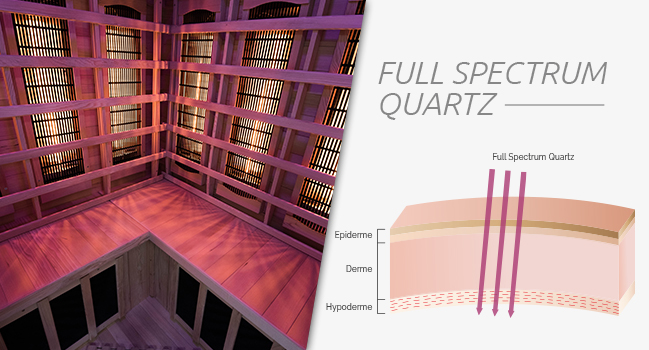 CANADIAN SPRUCE
The spruce wood that we use for the manufacture of our sauna cabins comes from sustainably managed forests. In addition to its rare elegance, this very aromatic essence is sure to awaken your sense of smell.
Spruce wood exhibits a natural beauty and softness that combine with its ability to resist temperature variations, as well as unique anti-fungal and anti-bacterial properties.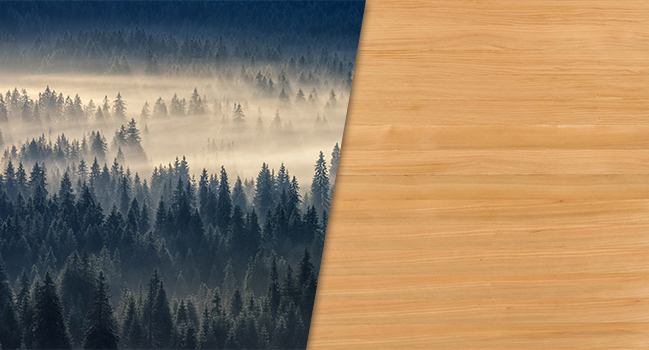 7 COLORS CHROMOTHERAPY
LED lighting inside the cabin and its prism of seven colors inspired by the codes of chromotherapy offer you a complete body-mind relaxation session.
The waves specific to the colors red, orange, yellow, green, turquoise, blue and violet act differently on the organism through the skin, which is particularly sensitive to light energies and positively influence your state of well-being.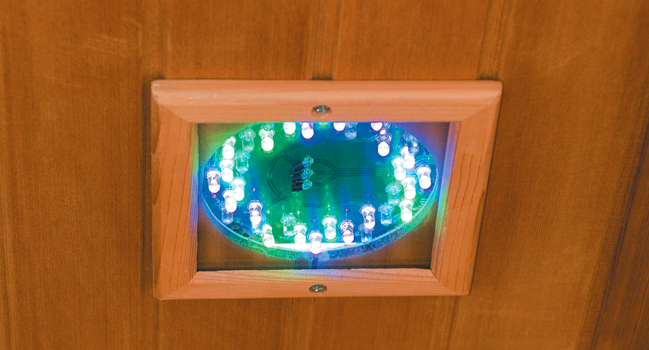 Digital control panel
Program the duration and temperature of your session without leaving your sauna.
Audio Installation
Relax with music via bluetooth, USB, Radio connections
Light Therapy
Enjoy the benefits of colour LED lights: serenity and peace.
Dimensions: 200 x 185 x 200 cm
Warranty 2 years on the electronics
Warranty 7 years on the wood
Payment & Security